The giant
Art Platform
fair took Los Angeles by storm at the beginning of October. With almost a hundred galleries and exhibition spaces from around the world participating, this was a high water mark in L.A.'s ascendancy on the international art world. There was no shortage of space for exhibitors at the giant LA Mart, the venerable Downtown design emporium known for the forty-foot chair -
the world's largest
- in its parking lot
(and trivia buffs will remind you that the chair is about where first base was when the Los Angeles Angels played their home games at the then Washington Park from 1911 thru 1925)
.
The fair was primarily on two floors of the LA Mart building but all of the Los Angeles art world was sent into overdrive with the vote of confidence in the sustainability of a thriving art scene here that this fair represents.
Whether it was the champagne VIP preview or Saturday afternoon at $25 admission, it was crowded at all times. With accolades pouring down, the Pacific Standard Time theme of the show inspired many dealers to dust off the old Ruscha prints in the attic and hawk their wares, but enough gallerists were committed to the long-haul to showcase their artists in a serious setting despite the slew of commerce on all sides. Here are ten that still resonate...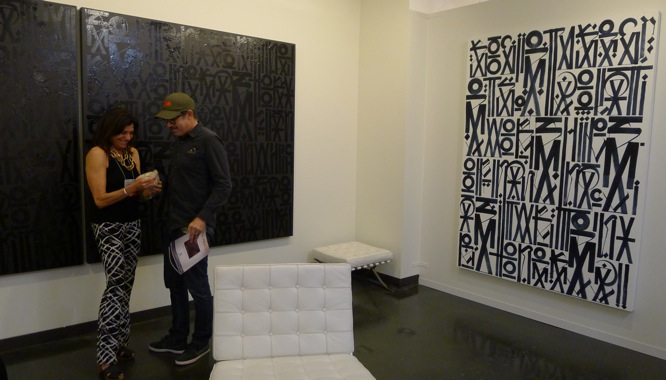 RETNA
at
New Image Art
Just as Street Art is becoming as relevant as Disco
(the dreaded "Senior Citizens take up Street Art" articles have arrived)
, New Image Art's
Marsea Goldberg
takes it to another level with the best looking booth in the fair and one of the few dedicated to one artist.
RETNA
needs little introduction to Los Angeles collectors and hipsters alike, but the prominence of being the only artist at one gallery's booth allowed for the slew of nationally known collectors and curators to see that RETNA was a great painter and then to consider that he was the class of the Street Art genre.